The Health Tech Market: A US Equity Market Point of View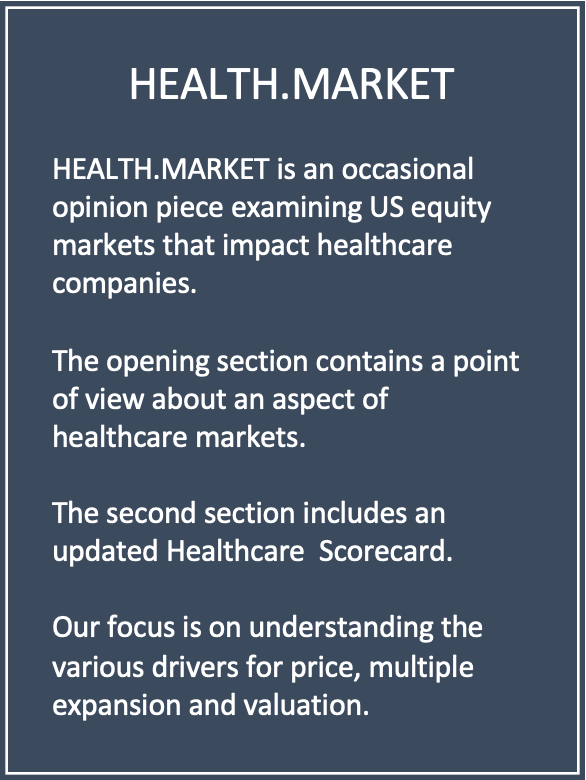 The Empire Strikes Back
Telehealth made a huge positive impact during the Covid public health emergency. Regulatory agencies and payers eased restrictions and facilitated utilization allowing more patients to effectively access care during the shutdown. Begging the question, why do we have to ask?
But now the Empire has struck back. Many of the restrictions that were eased are expiring and being rolled back. To the detriment of patients and to the astonishment of some physicians and providers.
Katie Palmer reporting in STAT on July 13 trumpeted "The party is winding down": States and insurers resurrect barriers to telehealth.
Why would we do this? The healthcare system is a mystery to most people. But this is the Healthcare Cartel doing what it always does after a challenge, it reforms like a giant ameba.
What is this Healthcare Cartel? It is the collection of interests that passes for a healthcare system in the US. In the post-World War II period when we determined we would have a class-based health benefit system tied to the quality of your job and your employer, the system void was filled by a self-organizing Cartel of interests.
The members are government – federal and state, employer-based health plans and ASO's, commercial health plan carriers, hospitals, physicians and biopharma. It is a complex, adaptive system that designs, manages and expands the payments for healthcare in the US to now approaching $4 Trillion.
The Cartel may yet make an expanded place for virtual care which would be logical and rational. Despite this friction, telemedicine continues to confront its historical barriers to acceptance: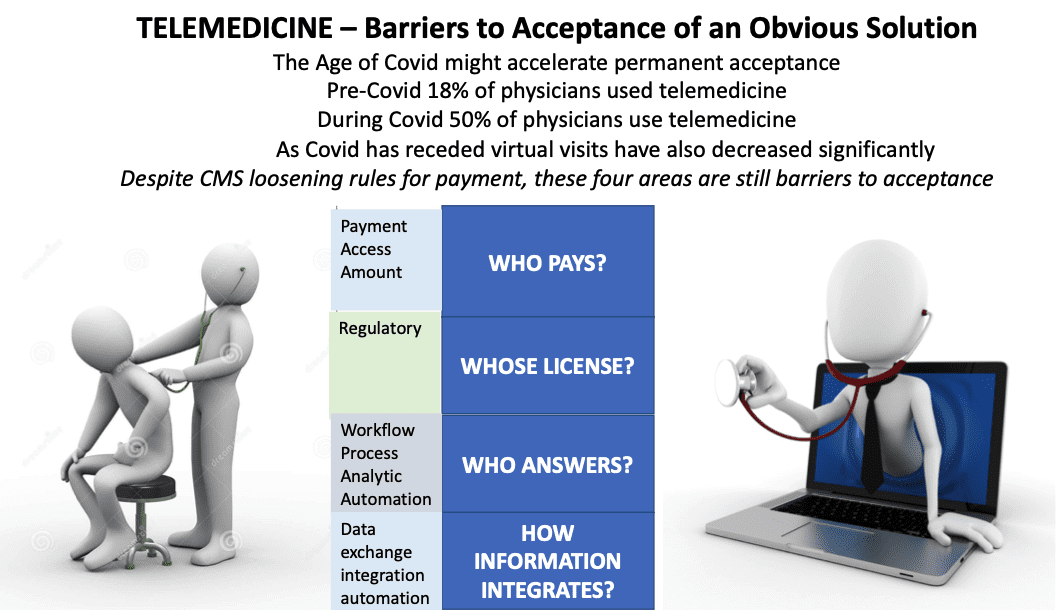 Telemedicine has never been about the technology which has been available for decades. It has always been seen as a challenge to the structure of traditional care delivery including licensure. In order to effectively deliver virtual care requires that licensure doesn't stop at state lines.
But even if it does new solutions are cropping up all the time. One that is having success is Mocingbird. Check out how their system of licensure and credentialing support is making multi-state licensure realistic for physicians and providers. https://www.mocingbird.com
Some combination of enlightenment and new technologies that enable distribution of healthcare to provide better access will eventually address these barriers. All it takes is a will to do so.