The Health Tech Market: A US Equity Market Point of View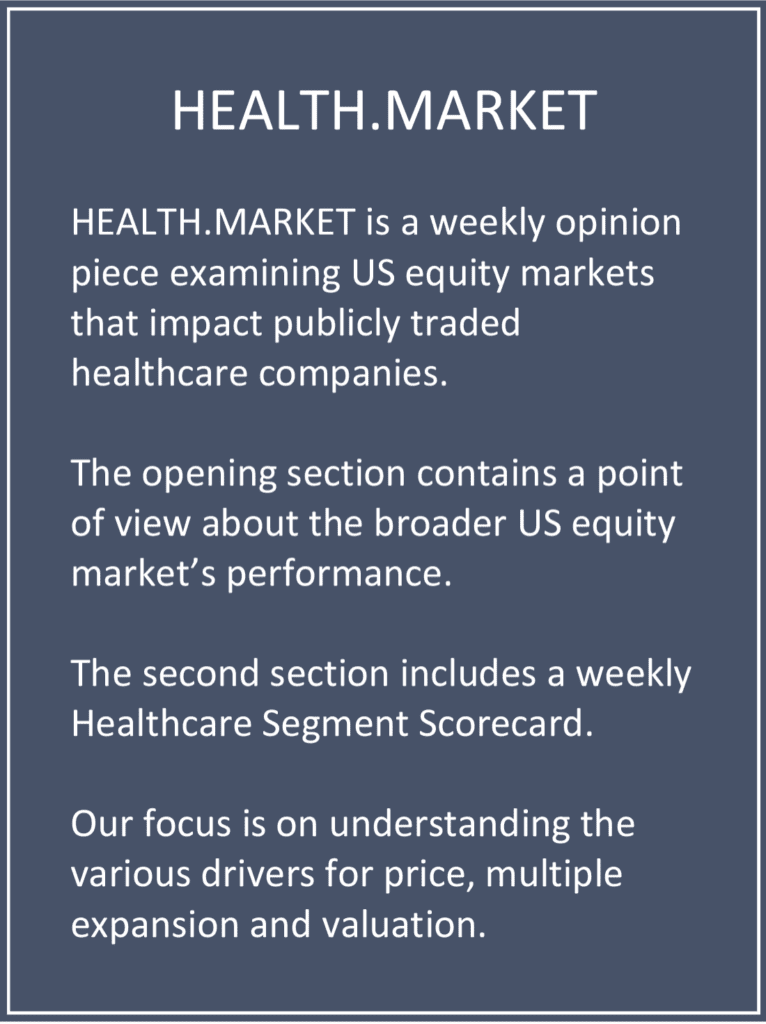 As entrepreneurs who aspire to either become a publicly traded company or be bought by one, understanding the dynamics of the public markets is fundamental to achieving your ultimate liquidity goal. It is one bookend of valuation.
The Product Called Healthcare
If a market exists called healthcare, then there must be a product called healthcare. Stretch your brain and define the product in a way where a $4 Trillion annual public investment can at least be categorized.
Here is a suggestion:
The Healthcare Product is a biotechnology-based, information depended personal service.
Rationale: Beginning after the Flexner report of 1910, US medical education and practice began to adhere to the scientific model of medicine to the exclusion of other schools of medicine. Subsequently, massive and increasing investment has been made in the biotechnology complex (basic research to care delivery) leading to the scientific basis of medical care as we now know it. I have left off the other schools because the vehicle to invest in them is unknown.
The information dependence aspect of the healthcare product is defined by the need to deliver to the point of service specialized knowledge and specialized skills in order to deliver medical care. We have invested heavily in this area over the last hundred years. The traditional way to deliver specialized knowledge and skill has been through highly trained and licensed people, physicians and other caregivers. 
As the amount of knowledge to treat patients increased exponentially in the 20th century automation of information delivery to the point of care became necessary, as even an army of specialists can fail to meet the service requirements of some patients and the lack of standardization and coordination of care is harmful.
There has been great resistance to the bedside automation and integration of physiologic and human data much less to individuals outside the control of hospitals and physicians and for a long time there was significant underinvestment and under development in this area.
This is changing starting with EHR's and is now called digital health with process and analytic automation making complex care available anywhere. Despite we are in early days of proving efficacy much less effectiveness of digital health solutions, the amount of investment is growing large and fast. The bet is on.
Finally, the product of healthcare in its last step is a delivery of a personal service. The person receiving the care receives it as an individual either as self-care or as one individual delivering service to another. We have traditionally invested least in this area and patient and consumer experience in healthcare has a dismal history. But herein is the opportunity.
Catching up to digital health, consumer health is finally showing a high level of activity and is attracting large investment. The ultimate value of these tools for consumer health and for improving clinical outcomes at this point remains an assumption. It's new to us. Expect trial and error.