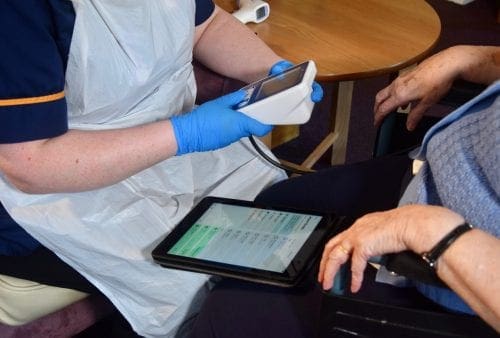 Client News
Smart phone and Bluetooth technology, linked to an innovative digital remote care system, has cut hospital admissions in the Stockport area by almost 40%, saved the NHS more than £2m and empowered patients at home.
A digital solution, developed by Norwegian medical software company Dignio and adopted by Stockport-based Mastercall Healthcare – a social enterprise 'not for profit' provider of NHS healthcare – has allowed many COVID-19 patients to remain safely at home, instead of being admitted to hospital.
Dignio opened a Manchester office earlier this year, close to Piccadilly rail station.
The same tech system has also been used in 20 care homes in the area, where it has again been helping to take the pressure off stretched NHS services.
Patients with smartphones and care home staff using tablets, download an app and can be instantly connected to devices including a thermometer, pulse oximeter and blood pressure monitor.
It means that those with mild coronavirus symptoms and residents in care homes, with a variety of long term health conditions, can be checked regularly.
Read More »